Black Confederates? This shouldn't be a question but seems something hard for a lot of people to believe true. How many Black soldiers actually served the Confederacy in the War for Southern Independence? Sources show anywhere from 30,000 to 100,000, even if we estimate about 65,000 Southern Black Confederates with upwards of 13,000 in the face of the enemy during combat goes to show the importance of these men for the Confederacy.
The Victors version of history gives us a different story and if we believe their version then we fall into the impression that the war was fought over slavery and the blacks that stood on the Confederate side were forced into a situation they didn't want to be in, well I believe that all Confederates were forced into a situation they didn't want to be in and the Cause of the War Between the States was more economic rather than to free the slaves.
Black Confederates were made up of both free blacks and slaves; the Confederate Congress did not approve blacks to be officially enlisted as soldiers (except as musicians), until late in the war. But in the ranks it was a different story. Many Confederate officers did not go along with the mandates of the politicians they enlisted black men with the answer to a simple question "Will you fight?" this was an easy answer as the reason they wanted to fight was the same as any other Confederate Soldier, they were from the South and defending their homeland was a must.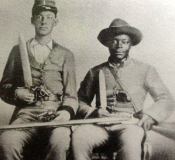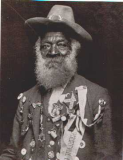 In 1861 noted black abolitionist Frederick Douglass reported, "There are at the present moment many Colored men in the Confederate Army doing duty not only as cooks, servants and laborers, but real soldiers, having musket on their shoulders, and bullets in their pockets, ready to shoot down any loyal troops and do all that soldiers may do to destroy the Federal government and build up that of the rebels."
Historian Ervin Jordan, explains that "biracial units" were frequently organized "by local Confederate and State militia Commanders in response to immediate threats in the form of Union raids". Dr. Leonard Haynes, an African-American professor at Southern University, stated, "When you eliminate the black Confederate soldier, you've eliminated a part of the history of the South."
Black History Month celebrates the importance of blacks in American history, let's not forget the importance of the black men and women who also sacrificed for their homes and families as much as the white, Hispanic, Indian and other races who also stood with them on the side of the Confederacy during the War Between The States.